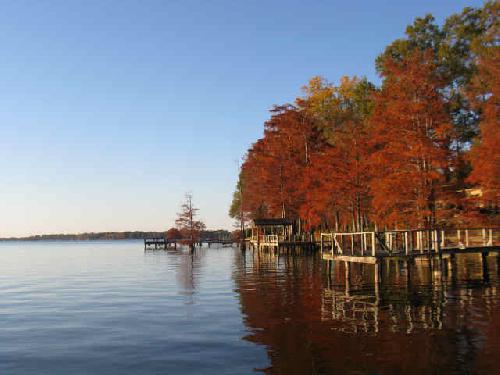 There are many Bossier Lake Homes in and around the Bossier City, Louisiana, area to choose from when searching for a home. This page is for finding out info about the lakes in the Bossier City area, and to tell you as much as we can about each individual lake in and around the Bossier Parish area. The Lakes and homes we will discuss are Lake Bistineau Homes and homes on the Black Bayou Reservoir.
When choosing what Bossier Parish lake to either build your dream house, or a purchase a new Bossier Lake Property, read on and we will describe as much as we can here.
CYPRESS LAKE HOMES
Looking for a home on Cypress Lake in Bossier Parish? Cypress Lake is located in Benton, Louisiana. The real name is Cypress Black Bayou Reserve. The lake size of Cypress Lake allows for a lot of fishing, water skiing, wake boarding, sailing, jet skiing and other recreational activities. There is a camp ground, that is well maintained, along with cabins that can be rented and a beach area with volleyball nets and picnic areas.
Cypress Lake Homes are usually newer homes and are some of the most expensive in the area. Cypress Lake is one of the best swimming and recreational lakes in the Northwest Louisiana area.
Cypress Lake has some rules and regulation to its land owners around the lake which is a good thing, which helps keep your lake property value up. Here are Cypress Lakes rules and regulations. Our other lake page is home to Shreveport Lake Front Property & Caddo Lake Property. Click here to view the Shreveport Lake Homes in our area.
LAKE BISTINEAU HOMES
Lake Bistineau is located in Webster, Bossier, and Bienville parishes and has many Lake Front Property Homes. Lake Bistineau has some of the best fishing in Northwest Louisiana. This Lake is home to one of Louisiana's best State Parks, which is located at 103 State Park Road, Doyline, Louisiana. They have to drain the lake a lot to combat salvinia. When they do drain the lake it becomes awesome fishing: Big Mouth Bass, Small Mouth Bass, White Perch, Blue Gill, Crappie and Catfish.
Lake Bistineau has many lake front homes/properties, prices vary by size and location. Typically the lake lots on Lake Bistineau are cheaper than those on Cypress Lake or Cross Lake (in Shreveport). As for lake front homes/properties, the Shreveport and Bossier City area has quite a selection!